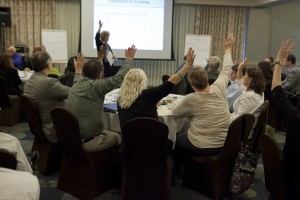 Kaiser is about to start bargaining with 100,000 workers. Here's how it will work
Sacramento Business Journal, Mar 27, 2015
by Kathy Robertson
Kaiser Permanente sits down at the table next week to talk with a coalition of national unions that represent its workers. It will begin negotiating one of the largest private-sector contracts up for renewal this year.
The coalition represents 100,000 workers in 28 union locals in eight states and the District of Columbia. Workers include registered nurses, maintenance and service workers, technicians, lab scientists, optometrists and others. More than half live in Northern California; almost 5,800 are in the Sacramento region.
Talks start Tuesday in Costa Mesa and are expected to finish in early June. If a deal is reached and ratified, it will take effect when the 2012 contract expires Sept. 30.
That timing is a lot more compressed than the norm for traditional, single-union collective bargaining, where it's not unusual for contract fights to go on for years. The approach is different, too. Issues are put on the table before wants.
Kaiser's national agreement goes far beyond wages and benefits, said Dennis Dabney, a senior vice president who heads up the health giant's labor management partnership.
Three main subgroups have been formed to address top issues, Dabney said. One will consider operational issues that include service, quality and patient satisfaction. Another will look at the workforce of the future, identify skills workers will need and training required to learn them. The third subgroup will address the health and safety of employees. Decisions made in the work groups are channeled to the folks sitting directly at the bargaining table.
"We come to the table with an issue to discuss, both sides put data on the table, we look at mutual interests and craft a solution," Dabney said.
About 150 people will sit at a large U-shaped table where differences are bargained, but about some 300 front-line employees will be in the room, too.
"How are you going to bargain with that many people?" Dabney wondered the first time he led the process — for the 2012 contract. "But it actually helps you because these are front-line employees who know how it really works," he said this week.
And front-line employees truly have a voice, said Hal Ruddick, executive director of the Coalition of Kaiser Permanente Unions.
Because of the partnership, unions help make decisions on when and how new techniques or models of care are tested and adopted, Ruddick said. "There's a different flavor to the national agreement and whole relationship. It brings front-line employees to the discussion."
It doesn't just happen, though. Outside facilitators work with both sides to identify issues, decide where talks will be held and come up with a schedule, Ruddick said.
That's a far cry from the way it works with some unions outside the partnership, including the staunchly independent California Nurses Association.
In the last round, contract talks were supposed to start July 31 but didn't because the two sides couldn't agree on a location. They each picked the place they wanted and waited for the other to show up. It took three false starts and a federal mediator before there was agreement on ground rules and where to meet.
Kathy Robertson covers health care, law and lobbying, labor, workplace issues and immigration for the Sacramento Business Journal.