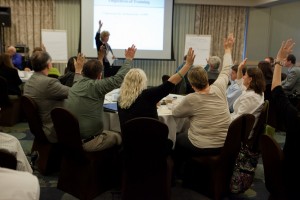 The Common Issues Committee (CIC) is the decision-making body responsible for negotiating the 2015 National Agreement. This diverse group includes representatives from Kaiser Foundation Health Plan, the Permanente medical groups and the Coalition of Kaiser Permanente Unions. This bargaining year, some 150 union members and management representatives will participate on the CIC.
Read about what it's like to be on the Common Issues Committee.
The CIC members are listed below, by issue subgroup.
Operational and Service Excellence in Partnership
Management
Labor
Don Bruzzi, SCAL
Bill Caswell, SCAL
Kevin Dull, NW
Rita Essaian, SCAL
Kathy Farmer, GA
Hannah King, Program Office
Pamela Lindemoen, NCAL
Allison Maney, Program Office
Jerry McCall, SCAL
Marie Monrad, Program Office
Susan Mullaney, NW
Elizabeth Oyekan, CO
Arlene Peasnall, SCAL
Alex Rakul, SCAL
Rich Smith, NW
Bob Spagat, Program Office
Dee Dee Urdangen-Cotow, NCAL & SCAL
Mark Urquhart, NCAL
Jerry Vincent, NCAL
DeLinda Washington, MAS
Tim Wemple, NCAL
Donna Young, NCAL
Walter Allen, OPEIU Local 30
Maureen Anderson, Coalition
Breanne Armbrust, UFCW Local 400
Nate Bernstein, UFCW Local 7
Nahid Bokaee, OPEIU Local 2
Virginia Bolanos, SEIU-UHW
Shawna Brown, SEIU-UHW
Mary Cavanaugh, AFSCME/UNAC
Holly Davenport, UFCW Local 770
Jettie Deeden-Castillo, AFSCME/UNAC
Lisa Demidovich, AFSCME/UNAC
Rosie Gonzalez, USW
Ted Herrera, IUOE Local 1
Dorian Lawrence, SEIU-UHW
Ilda Luna, SEIU-UHW
Harry Manley, UFCW Local 27
Donna Norton, SEIU-UHW
Desiree Pedroza, SEIU-UHW
Earlene Person, SEIU-UHW
Dave Regan, SEIU-UHW
Mark Richards, AFT/OFNHP
Ruby Robley, SEIU-UHW
Luz Rojas, SEIU-UHW
Bill Rouse, AFSCME/UNAC
Tamara Rubyn, OPEIU Local 29
Ron Ruggiero, SEIU Local 105
Ethan Ruskin, SEIU-UHW
Kathleen Theobald, KPNAA
Cherral Tonth, UFCW Local 1996
Ike Wardley, SEIU-UHW
Angela Young, SEIU-UHW

Total Health and Workplace Safety

 Management
Labor
Helen Archer Duste, NCAL
Dawn Bading, GA
Greg Christian, SCAL
Maria Dee, Program Office
Kathy Gerwig, Program Office
Trina Histon, Program Office
Lisa Malone-Buffong, SCAL
Jean Melnikoff, HI
Stacey Mufson, Program Office
Sandy Rusch, NCAL
John Vu, Program Office
Gay Westfall, NCAL
Lesley Wille, SCAL
Rob Wong, NW
Walter Yonn, Program Office
Casper Yu, NW
Adriana Barragan, SEIU-UHW
Annette Baxter, OPEIU Local 30
Max Carbuccia, AFSCME/UNAC
Teri Carvalho-Luke, OPEIU Local 50
Holly Craft-Moreno, SEIU-UHW
Suzanne Delaney, AFSCME/UNAC
Jasper Diaz, SEIU RN Local 121
Lisa Dupell, UFCW Local 555
Joan Heller, UFCW Local 7
Lorie Kocsis, SEIU-UHW
Cindie McGinnis, UFCW Local 770
Charmaine Morales, AFSCME/UNAC
Meg Niemi, SEIU Local 49
Nancy Rouse, AFSCME/UNAC
Maria Solano, USW
Tinesha Thomas, SEIU-UHW
Tanya Wallace-Gobern, Coalition
Karen Yates, AFT/OFNHP

Work of the Future

Management
Labor
Zeth Ajemian, SCAL
Kara Aley, Program Office
Kristen Birtwhistle, NCAL
Debbie Catsavas, Program Office
Christopher Comma, NCAL
George DiSalvo, SCAL
Jann Dorman, Program Office
Sylvia Everroad, SCAL
Bill Gilmyers, NCAL
Daniel Goldberg, Program Office
Jennifer Goldberg, SCAL
Ron Groepper, NCAL
Jerry Hartbarger, CO
Kelli Kane, CO
Deborah Konitsney, Program Office
Maryanne Malzone, SCAL
Jim McAleer, Member Services Call Centers
Tyler Norris, Program Office
Laura Long, Program Office
Peter Nixon, Program Office
Sarah Neal-Fujimoto, HI
Bob Sachs, Program Office
Matt Stiefel, Program Office
Janelle Williams, Program Office
Charlene Yates, MAS
Michael Aidan, IFPTE Local 20
Chokri Bensaid, SEIU-UHW
Linda Bridges, OPEIU Local 2
Pam Broderson, AFSCME/UNAC
Rick Brown, UFCW Local 1996
LaSonia Cosio, SEIU-UHW
Mike Cowan, OPEIU Local 2
Ken Deitz, AFSCME/UNAC
Denise Duncan, AFSCME/UNAC
Denise Ellis-Lathon, SEIU-UHW
Shelly Fowlkes, SEIU Local 105
Marianne Giordano, OPEIU Local 30
Verna Hampton, SEIU-UHW
Jeannifer Key, SEIU-UHW
Brian Lockhart, ILWU Local 28
Julie Markiewicz, SEIU Local 49
Erica Mays, AFSCME/UNAC
Dawnette McCloud, AFT/OFNHP/ONA
Terrie Ridgeway-Olmos, SEIU-UHW
Evelia Rodriguez, SEIU-UHW
Daniel Romo, SEIU-UHW
Patricia Sanchez, OPEIU Local 29
Deborah Sung, AFSCME/UNAC
Janis Thorn, USW
Debbie Watts, UFCW Local 324
Kevin Williamson, UFCW International
Sandy Wohler, IBT

National Bargaining Coordinating Committee

The National Bargaining Coordinating Committee directs the planning and execution of negotiations for the National Agreement.

Management
Labor
Greg Adams, NCAL
Chuck Columbus, Program Office
Dennis Dabney, Program Office
Henry Diaz, Program Office
Deanna Dudley, Program Office
Donna Lynne, CO
Arlene Peasnall, SCAL
Jim Pruitt, Permanente Federation
Mike Rowe, NCAL
Judy White, SCAL
Connie Wilson, NCAL
Michael Aidan, IFPTE Local 20
Walter Allen, OPEIU Local 30
Maureen Anderson, Coalition
Chokri Bensaid, SEIU-UHW
Ken Deitz, UNAC/UHCP
Dianne Dunlap, Coalition
Rosie Gonzalez, USW Local 7600
Dawnette McCloud, OFNHP
Kathleen Theobald, KPNAA
Meg Niemi, SEIU Local 49
Dave Regan, SEIU-UHW
Bill Rouse, UNAC/UHCP
Hal Ruddick, Coalition
Debbie Watts, UFCW Local 324
Sandy Wohler, IBT
Kevin Williamson, UFCW International