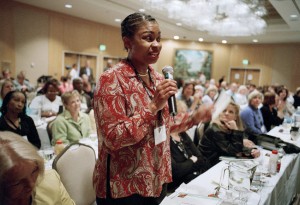 General
What is the Labor Management Partnership?
The Labor Management Partnership (LMP) is the largest and most comprehensive labor management partnership in the country. The partnership between Kaiser Permanente and the Coalition of Kaiser Permanente Unions covers more than 100,000 union-represented employees—about 80 percent of all union-represented employees at Kaiser Permanente—as well as 14,000 managers and 17,000 physicians in Northern California, Southern California, the Northwest (Washington and Oregon), Colorado, Georgia, Hawaii and the Mid-Atlantic States (Virginia, Maryland and Washington, D.C.). The partnership is widely recognized for its unique approach and results, which are models for other health care organizations and unions. Learn more.
What unions are in the Coalition of Kaiser Permanente Unions?
International Brotherhood of Teamsters
Local 166, Southern California
International Federation of Professional and Technical Engineers (IFPTE)
Local 20, Northern California
International Longshore and Warehouse Union (ILWU)
Local 28, Northwest
International Union of Operating Engineers (IUOE)
Local 1, Colorado
Kaiser Permanente Nurse Anesthetists Association (KPNAA)
Southern California
Office and Professional Employees International Union (OPEIU)
Local 2, Mid-Atlantic States
Local 29, Northern California
Local 30, Southern California
Local 50, Hawaii Nurses Association, Hawaii
Oregon Federation of Nurses and Health Care Professionals
(OFNHP), American Federation of Teachers
Local 5017, Northwest
Oregon Nurses Association (ONA), American Federation of Teachers
Northwest
Service Employees International Union (SEIU)
Local 49, Northwest
Local 105, Colorado
Local 121RN, Southern California
SEIU-UHW West, Northern and Southern California
United Food and Commercial Workers International (UFCW)
Local 7, Colorado
Local 27, Mid-Atlantic States
Local 135, Southern California
Local 324, Southern California
Local 400, Mid-Atlantic States
Local 555, Northwest
Local 770, Southern California
Local 1167, Southern California
Local 1428, Southern California
Local 1442, Southern California
Local 1996, Georgia
United Nurses Associations of California/Union of Health Care
Professionals (UNAC/UHCP), AFSCME
Southern California
United Steelworkers of America
Local 7600, Southern California
Where can I find past National Agreements?
Bargaining participants
What is the Common Issues Committee?
The Common Issues Committee (CIC) is the decision-making body responsible for negotiating the 2015 National Agreement. This diverse group includes representatives from Kaiser Foundation Health Plan and Hospitals, the Permanente medical groups and the Coalition of Kaiser Permanente Unions. Read more.
Who are the observers/alternates?
The observers/alternates are Kaiser Permanente employees who belong to a coalition union. The observers/alternates are selected by and represent their local coalition union.
What is the role of the observers/alternates in bargaining?
Observers/alternates are there to observe, learn about the process and share information with other co-workers as appropriate. Observers/alternates attend subgroups and Common Issues Committee meetings and may participate in the labor caucus throughout the bargaining sessions.

Interest-based bargaining
What is collective bargaining?
Employers and unions use collective bargaining to reach agreement on issues ranging from wages and health benefits to hours and working conditions. The result is a legally binding contract that clearly describes these conditions of employment.
What is interest-based bargaining?
Interest-based bargaining is an approach to collective bargaining that focuses both parties on resolving issues rather than staking out adversarial positions. Parties collaborate on finding a solution that meets the interests of both parties—with the goal of reaching consensus. Read more.
Why use interest-based bargaining?
Interest-based bargaining:
•    allows full discussion of difficult or complex issues
•    promotes creative solutions
•    reduces confrontation
•    creates ownership in and support of the results
•    builds closer working relationships
What is the difference between a position and an interest?
| An interest | A position |
| --- | --- |
| Is a concern, need or goal that a party to the agreement has concerning the issue | Tells us how the issue might be dealt with |
| Tells us what has to be addressed in order to reach an agreement | Identifies one party's favored solution |
| Tells us why there is an issue | May not reveal the party's true needs and concerns |
| Can be addressed in more than one way | May not address the needs or concerns of other stakeholders |

How do you know when a group has reached consensus?
When everyone has been heard, everyone understands the solution, everyone can live with the solution, and everyone will actively support the solution.
Note: These frequently asked questions should be informative and useful to a wide range of visitors to this website. Questions that are specific to a certain situation should be referred to the appropriate union or management official for a response.