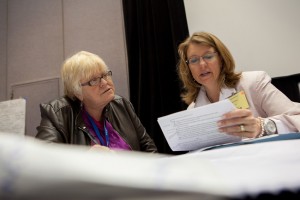 How we bargain our National Agreement is as important as what we bargain. We use an interest-based problem-solving approach. We strive to the meet the needs of all parties involved with this collaborative method. Together, we can preserve—and improve—workplace relationships and our partnership.
It's not about "giving in." It's about how we negotiate differences amicably and reach agreements that will be lasting and durable.
The Heart of Interest-Based Bargaining
Four words are at the heart of the interest-based bargaining:
The issue is the problem or subject area to be addressed.
A position is a proposed solution.
The interest is the underlying need, motivation or concern that may have to be addressed in order to reach a solution. You can tell an interest in part because—unlike a position— there is usually more than one way to satisfy it.
An option is a potential way to address the issue, in whole or in part.
Beyond Competition and Compromise
The interest-based approach opens the door to collaborative problem solving (as opposed to competition or compromise) and leads to creative, mutually beneficial solutions. Interest-based bargaining works best when there is shared information, a focus on key issues, active listening, openness to options and a sense of mutual trust.
What is the difference between a position and an interest?
| An interest | A position |
| --- | --- |
| Is a concern, need or goal that a party to the agreement has concerning the issue | Tells us how the issue might be dealt with |
| Tells us what has to be addressed in order to reach an agreement | Identifies one party's favored solution |
| Tells us why there is an issue | May not reveal the party's true needs and concerns |
| Can be addressed in more than one way | May not address the needs or concerns of other stakeholders |

Our National Agreements
Interest-based bargaining has helped Kaiser Permanente and the Coalition of Kaiser Permanente Unions go well beyond wages and benefits—the subjects of traditional bargaining—in negotiating four large-scale contracts.
These National Agreements have developed industry-leading approaches to worker sick leave, safety and training, and workforce development. They have created unit-based teams to improve patient care and service and pioneered programs for the mutual growth of KP and the unions.