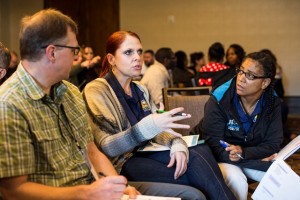 Hundreds of frontline workers, managers and top leaders from Kaiser Permanente and the Coalition of Kaiser Permanente Unions gathered in Costa Mesa, California, this week to kick off negotiations on a new national agreement. The talks will determine the future direction of the  Labor Management Partnership. "This is the largest and most successful labor management partnership in the country, and it's still going strong," Jim Pruitt, vice president of LMP and Labor Relations for The Permanente Federation, told the crowd on the first day of the kick-off session.
"Nowhere else will 100,000 unionized workers come together to talk about how do we continue to improve upon what's already a world-class organization," said Dave Regan, the president of SEIU-UHW West, one of the largest unions in the union coalition. "We do partnership here because it produces better care, it produces better financials for the company, and it produces a better standard of living for the workforce."
Opening presentations
The kick-off session began with a day of presentations about the topics that will be the focus of this year's negotiations—total health and workplace safety, the work of the future, and how to achieve operational and service excellence in partnership.
Artie Southam, executive vice president of Health Plan Operations, described how consumers' rising demands for transparency, value and personalized service are putting pressure on the health care industry to provide service at the level of the country's top retail companies. "Our key work ahead is to consistently meet evolving and new consumer expectations everywhere throughout Kaiser Permanente," he said.
Denise Duncan, executive vice president of the UNAC/UHCP, AFSCME, explained that union coalition members are embracing the coming changes in health care—and they want to design the changes, not just implement them. "There's no question technology and innovation are huge for us," she said. "We have seniors and we have millennials [as Kaiser Permanente members], and the one thing they all have in common is they want to get their care close to where they are."
Interest-based bargaining training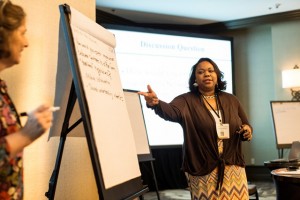 The second day of the kick-off session was dedicated to training the members of the Common Issues Committee—the team that will bargain the new national agreement—as well as the bargaining observers and alternates in how to engage in interest-based bargaining. This type of bargaining focuses both parties on resolving issues rather than staking out adversarial positions. Parties collaborate on finding a solution that meets the interests of both parties—with the goal of reaching consensus.
"This is not how I thought it would be at all," said Briggett Mitchell, a surgery schedule coordinator and OPEIU Local 30 member in San Diego who is attending national bargaining for the first time. "I pictured union on one side and management on the other side, but it's not like that at all. I like how everyone is mixed together. It's better than I thought it would be. It's wonderful."
Janelle Williams, a consultant specialist from the Office of Labor Management Partnership, is also participating in national bargaining for the first time, and she was impressed by negotiators' enthusiasm and desire to achieve a national agreement that secures Kaiser Permanente's future as a leader in health care. "Wages and benefits are important and essential to a good contract, but people are invested in the work they do and the value they deliver to members and that plays a huge role in this process," she said.
Visit bargaining2015.org for more information about national bargaining and to sign up to receive regular updates.