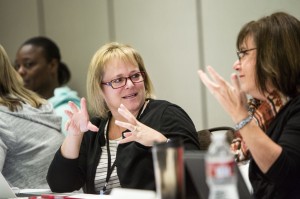 Nearly two hundred people from Kaiser Permanente and the Coalition of Kaiser Permanente Unions continued 2015 National Bargaining this week in San Jose. Negotiators broke into subgroups to continue to hammer out shared management and union interests, which will determine the 2015 National Agreement and shape the future of the Labor Management Partnership.
In addition to wages and benefits, 2015 negotiations focus on three topics:
•    Work of the Future
•    Total Health and Workplace Safety
•    Operational and Service Excellence in Partnership
Total Health and Workplace Safety
Delivering exceptional care and service, and supporting a healthier, injury-free workforce go hand in hand.  "We can't provide quality, affordable care to our members and communities unless we first provide a safe and respectful environment that promotes the collective health of our workforce," said Kathy Gerwig, Kaiser Permanente's vice president of employee safety, health and wellness and the management co-lead for the Total Health and Workplace Safety subgroup.
The subgroup's goal is to find ways to help Kaiser Permanente employees enjoy long, healthy, productive lives.  It will expand upon the achievements of the 2012 National Agreement, and also address how Kaiser Permanente and the Coalition of Kaiser Permanente Unions can partner to improve the Total Health of the communities we serve.
Personal and collective health
In 2012, negotiators established the groundbreaking Total Health Incentive Plan. The wellness program encourages employees to assess their own health and aim for collective improvement in measures like cholesterol and body mass index. "By living healthy lives, Kaiser Permanente workers can serve as role models for our members and patients, and also contain the cost of our own care," said Lisa Dupell, UFCW Local 555 and union co-lead for the Total Health and Workplace Safety subgroup.
This year, the parties will suggest ways to improve employee access to services such as wellness coaching, encourage healthy eating and break-time exercise, and help employees understand and prevent workplace violence and intimidation.
Expanding wellness to communities
In a first for national bargaining, the subgroup will also suggest ways to bring a holistic approach to wellness into communities Kaiser Permanente serves, especially those with limited access to healthy food, affordable health services and places to exercise.
The next National Bargaining session will take place from May 12– 14.