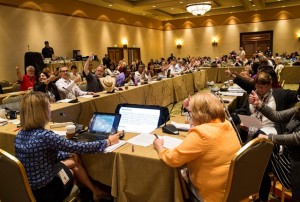 MANHATTAN BEACH, Calif., June 6, 2015—Kaiser Permanente and the Coalition of Kaiser Permanente Unions have reached a tentative agreement in the largest private-sector contract talks in the United States this year. The national contract will cover 105,000 unionized Kaiser Permanente health care workers in 28 local unions.
The tentative agreement goes far beyond the traditional contract issues of wages and benefits. It develops standards to assist unionized workers, managers and physicians as they work together to achieve quality, affordability, and safety of care, prepare for jobs of the future, and develop innovative solutions to health care challenges. The agreement also will enable 3,500 frontline teams to better deliver award-winning care and service to Kaiser Permanente's more than 10 million members and patients.
"This is an outstanding agreement that deepens our ability to provide affordable, high-quality care to our members and patients," said Dennis Dabney, senior vice president, National Labor Relations and Office of the Labor Management Partnership. "Kaiser Permanente leads the industry because it is a great place to work and a great place to receive care—and the two are inseparable."
"We're on year 18 of a remarkably successful strategy," said Hal Ruddick, executive director of the Coalition of Kaiser Permanente Unions. "Our contract is better than ever, Kaiser Permanente's quality and service scores are higher than ever, and the organization and unions are both healthy and growing. Partnership pays off for workers, consumers and mission-driven organizations like Kaiser Permanente."
The new three-year agreement includes:
•    Wage increases in each year of the agreement, ranging from 2 to 4 percent depending on the region and the year of the agreement.
•    Enhancements to benefits such as dental coverage, life insurance and tuition reimbursement.
•    A long-term solution to preserve retiree medical benefits while reducing liabilities associated with those benefits.
•    Additional funding to two educational trust funds to ensure career development for Kaiser Permanente's diverse workforce.
•    New goals for 3,500 front-line teams. Worker engagement and participation in these teams has helped Kaiser Permanente garner recognition for clinical quality, patient safety and member satisfaction from organizations such as U.S. News and World Report and the National Committee for Quality Assurance.
•    Updates to the groundbreaking Kaiser Permanente Total Health Incentive Plan, a voluntary program that encourages and empowers employees to make their own health a priority and builds a culture of workplace health. The program rewards employees for healthy behavior and provides incentives for collective improvement rather than singling out individual employees.
•    Joint participation by the coalition unions in community health projects and volunteer work.
Once ratified this summer by local unions and national Kaiser Permanente leadership, the contract will cover 105,000 Kaiser Permanente unionized employees. They include 81,000 health care workers in California; 8,500 in Oregon and Washington; 5,000 in Colorado; 5,500 in Maryland, Washington, D.C. and Northern Virginia; 1,800 in Georgia; and 800 in Hawaii. The workers span hundreds of job classifications, from registered nurses and pharmacists, to maintenance and service workers.
Kaiser Permanente and the Coalition of Kaiser Permanente Unions created the Labor Management Partnership (LMP) in 1997 to develop and support innovative ways of improving patient care, affordability and the work environment. Kaiser Permanente is recognized as one of America's leading health care providers and not-for-profit health plans. It currently serves more than 10 million members.